A MIX OF TOUGH CHALLENGES AND GREAT OPPORTUNITIES AHEAD OF US FOR 2023.


GLOBAL AND US OUTLOOK:

Global markets remain unsure of what to expect for the year ahead with inflation still very much in the sights of the federal reserve which continue to edge interest rates slowly upwards even after the shock of the collapse of several banks including the failure of SVB, second biggest bank failure in U.S. history after the collapse of Washington Mutual in 2008. It's certainly not only the US banks that are impacted by current events after Swiss giant Credit Suisse collapsed and was hurriedly absorbed by competitor UBS in a deal brokered by the Swiss regulators.

Data shows that the US economy continues to stay out of recession, but concerns remain that this is inevitable. On the positive side, markets have started to recover albeit tentatively in anticipation of the end of the tightening cycle. We watch long-term interest rates closely and the costs of long-term money, specifically 5-to-10 year treasuries that are pricing sizable interest rate drops in the medium to long term. This is certainly positive for us as returns depend very much on the cost of capital. In our underwriting of new acquisitions, we now can take into account the possibility of refinancing debt over the course of the investment at lower rates.

US MEDICAL REAL ESTATE:

The OrbVest US team all attended the annual REVISTA medical real estate investment forum 2023 and, apart from the valuable opportunity to network and meet with key role players in the industry, provided very interesting insights into trends in the medical real estate industry, some of which I will highlight in more detail.
Firstly, all the fundamentals remain strong with an average occupancy of medical office blocks (MOB's) remaining consistently high at just under 92% occupancy, which concurs with our occupancy of our OrbVest (non-legacy) portfolio. This is measured across 36,509 MOB properties to the value of $509B in value. Also, the good news is that new construction slowed in 2022 exceeded by demand for MOB space, which also correlates with our own experience this year as we experience strong leasing activity across our portfolio. This is now reversing as new construction has started accelerating in 2023 as demand for quality MOB space has become premium. While this should be carefully monitored in our target states, new builds are generally not speculative and are purpose-built for tenants at significantly higher rentals pulling rental prices up. Also notable were the costs of construction now averaging $501 sq. ft. (median $412) in Q1 of 2023 based on total project value, considerably above our acquisition costs.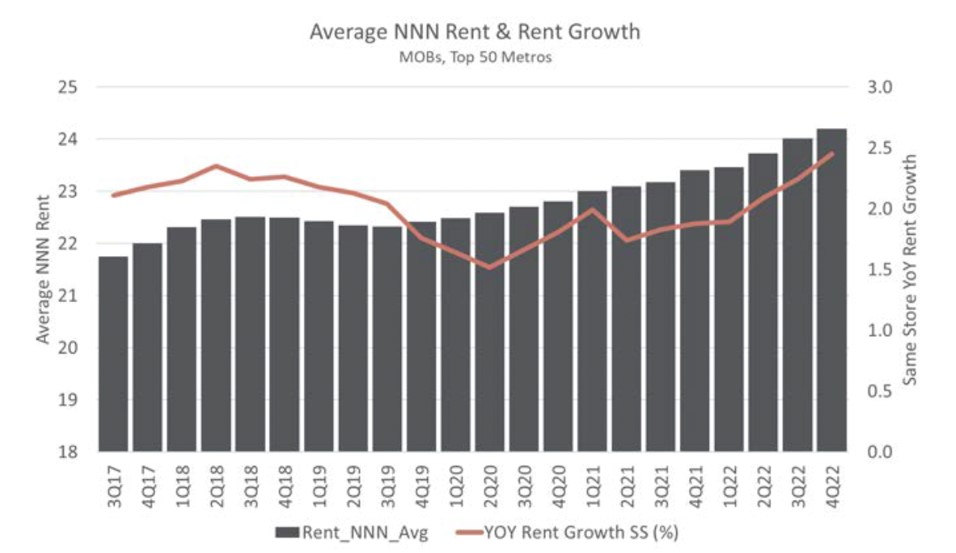 Source ReVista data – see Revistamed.com.

The above graph illustrates consistent growth now exceeding an average of $24 per sq. ft. which shows that our portfolio average rent per square foot of $21.79 is below market. Also notable is the red line showing an escalation in the rental of just below 2.5% per annum again compared to our average annual increase of 2.3%. Also, the OrbVest portfolio has buildings in 5 of the 6 highest-growth Metros in terms of rental growth for MOB's which underpins our target geographies' investment strategy.
Clearly, high-interest rates are having an impact on cap rates and we are finally seeing cap rates climb to correlate with the current cycle. This is both positive and negative. For existing OrbVest investors with investments reaching maturity, the opportunity to sell and extract good capital growth is negated, so we will advise to hold in all events that buildings are reaching the end of the investment term. But as a positive, we are now seeing cap rates in Q1 now approaching 7,5% and above. At the time of writing, we have a letter of intent to acquire a building, fully let on long-term leases with a cap rate over 8%.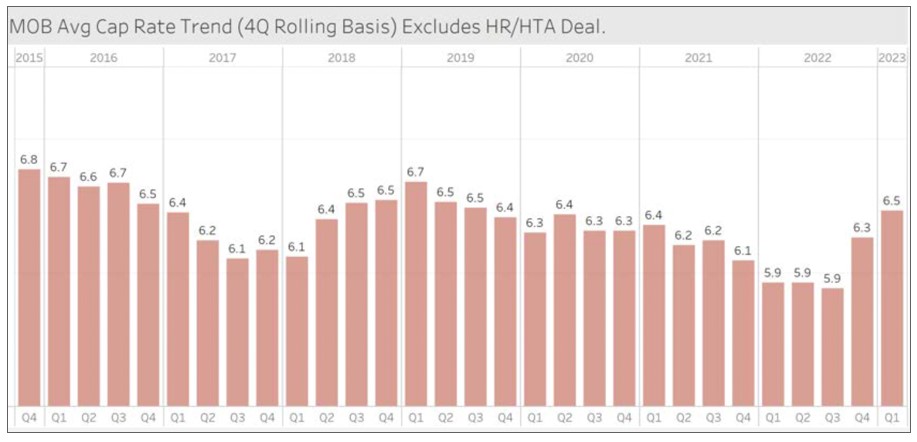 Rising cap rates certainly provide a window of opportunity to acquire MOB's and we continue to explore the opportunity of finding institutional capital to power our ability to take advantage of the market opportunity.

Our strategy is to only invest in CORE or CORE PLUS deals where we are the sole General Partner and have full control. Our preference as we move forward towards OrbVest 2.0 is also to consolidate more buildings together to provide more protection and a blended yield for investors.

CONCLUSION:

In this uncertain time, there is no doubt that our chosen niche of investing in Medical Office buildings is undoubtedly a solid and future-proofed asset class, and we look forward to taking advantage of what we believe is an opportunity of the decade to accelerate our path to building our portfolio. We continue to explore opportunities to underpin this path with a strong institutional partner who can power this growth. In the meantime, we continue to seek out great investable opportunities to share with you so you can join us on this road to growing your capital. Maybe you should consider our most recent acquisition as presented below, Medical 42, Lakeside Professional Centre in Atlanta.

We thank you for your continued support and wish you prosperous investing in the quarter ahead.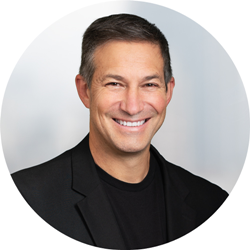 Martin Freeman
OrbVest CEO

Or you can copy this link:
https://orbvest.com/articles/A-mix-of-tough-challenges-and-great-opportunities-ahead-of-us-for-2023.