ORBVEST ENTERS 2023 WELL POSITIONED, WHICH IN TURN WILL BENEFIT OUR INVESTORS GLOBALLY.
GLOBAL AND US OUTLOOK:

What a tumultuous year 2022 has been for us all!

We began the year with enormous optimism as demand for everything rocketed into record territory as the world finally moved past Covid. Real estate prices, commercial, residential, industrial, healthcare and logistics increased at unsustainable levels while at the same time stock markets continued to absorb billions of dollars in cheap money from all over the world. New opportunities in the cryptocurrency space started going mainstream driving technological and fundamental changes in our lives. But no sooner than the year had begun, this all changed with supply chain constraints and shortages in the labor market began driving surging inflation within the US. In an effort to cool the economy and reign in stubborn inflation, the US Federal Reserve intervened and has consistently raised interest rates over the past six months. The cumulative increases have culminated in mortgage rates doubling from around 3% to over 6% within this short period of time.

As the end of 2022 approaches, indications are that the interest rate hikes are beginning to impact all sectors of the US economy. Unemployment is rising, equity markets are in bear market territory and real estate prices generally are softening. A new war is happening in Europe at a scale previously thought impossible in this age, with impacts on the supply of grain and energy disrupting world markets, and China, the factory of the world, implemented hard lockdowns for months on end to try to achieve a zero Covid infection rate. The challenge will be whether the US will have a soft landing in 2023 or enter a sustained recession.

US REAL ESTATE:

Low-interest rates and excess capital have led to increases in the price of most real estate in recent years. The higher interest rates and increased prices of medical office real estate created a situation where deals became overpriced and unattractive for investors, and we, therefore, slowed our rate of acquisitions as the spread between yields and interest rates narrowed. We have however witnessed a strong change in the healthcare real estate market over the past few weeks and the market is clearly transitioning from a 'sellers' to a 'buyers' market.

This provides for enormous opportunity as we enter 2023 for OrbVest to acquire assets at more appropriate pricing with sustainable long-term growth. All indications are that the cost of long-term debt will drop in anticipation of the feds slowing of interest rate increases while sellers are more pragmatic in their asking prices. The graph below shows the median projections of the cost of fed funds going into 2024.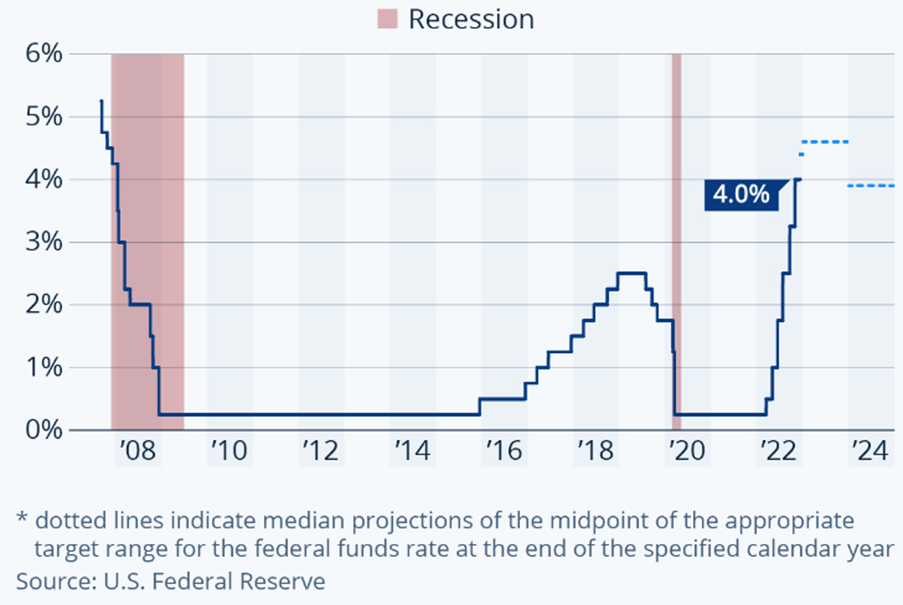 2022 YEAR REVIEW:
OrbVest did however manage to acquire a further
7
deals and expanded our presence to 8 states within the US. We have recently completed the acquisition of both Medical 40 in Albuquerque and Medical 41 in North Carolina and look forward to the imminent launch of Medical 42 in the coming weeks. Most of these deals we have acquired as the sole General Partner without any reliance on a co-partner. This is a critical component of our strategy as it ensures that we retain control of the overall investment and thereby provide additional protection for our investors globally. A further highlight in the year was the launch of our 'Short Term Note' specifically designed to assist investors with generating additional interest on idle funds over the short term or for investors seeking investment timeframes less than one year. ODH (OrbVest Diversified Holdings) offers a diversification of risk into multiple real estate deals via a single investment.
OrbVest consolidated ODH1-5 into a single ODH entity in 2022 and now offers a more efficient offering into more than twenty-five deals with over $20m equity invested to date. The spread of investments gives our investors who are dependent on regular quarterly distributions peace of mind that they will earn a blended return from well over 100 medical tenants across the portfolio. It should be noted that real estate is not always a straight line and like all other businesses, is not immune from challenges that do arise. Over the past few quarters, OrbVest has had to navigate the impact of rising inflation including additional expenditure related to surging insurance rates in some states affected by hurricanes.
These have been overcome and a special thanks go to our asset management team in Atlanta. We are also dealing with the failure of a partner on historical 'value-add' deals that were acquired prior to the incorporation of OrbVest and additional acquisitions that followed with the same partner in 2018 and 2019. As described over the past years, OrbVest's strategy is to only acquire stable income-producing deals that generate sustainable dividends from the date of acquisition. OrbVest continues to work tirelessly in an effort to resolve these distressed but highly attractive trophy assets that make up an important part of our older portfolio.
CONCLUSION:
Our brand and reputation in the US have once again grown over the past year and this continues to deliver a strong pipeline of deal flow. With the market having softened with the pricing of deals now normalizing, OrbVest enters 2023 well positioned, which in turn will benefit our investors globally by providing great opportunities, which is a hedge against inflation and a path to long-term wealth creation. On behalf of OrbVest, our employees, and the executive team, I would like to thank you again for your support in 2022.
I wish you a peaceful and happy festive break and look forward to being in touch with you again in 2023.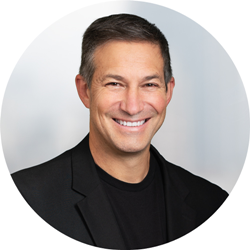 Martin Freeman
OrbVest CEO